Adaptive Defrost Controls for Cooling Devices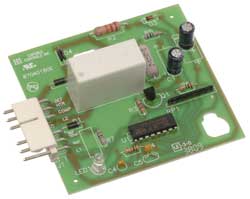 Adaptive defrost controls shut off the refrigerator cooling devices and redirect power to the defrost heater during the defrost cycle. After the defrost cycle is over, the adaptive defrost controls redirect power to the compressor and the fans.  
Unlike a defrost timer, an adaptive defrost controller will only defrost when the refrigerator or freezer needs to. If a refrigerator or freezer is not in use, it will not defrost as often.
The Capable Controls adaptive defrost control replaces and enhances the performance of conventional electro-mechanical timer defrost devices.
How an Adaptive Defrost Control Works
Adaptive defrost controls continually adjust defrost intervals based on the number of door openings and the compressor run time. The microprocessor-based defrost control provides intelligence to gather, and process information about system defrost requirements. 
During the defrost cycle, the board monitors the refrigeration system, determining the total compressor run time. This information, combined with the length of the previous defrost cycle determines when the next defrost cycle should occur.
The control employs non-volatile memory technology to store system fault conditions through power outages. Faults detected include thermostat, compressor, and defrost heater failures. Fault codes are displayed by the circuit board LED (light-emitting diode) that flashes a specific pattern for each problem type. After repairs are made and normal operation is restored, the control clears the LED fault indication.
The control is designed to be a direct plug-in replacement in form and function to original factory types. Custom configurations and software are available to meet specific customer requirements.
Contact Capable Controls for Adaptive Defrost Controls 
Capable Controls manufactures adaptive defrost controls for a range of applications. With decades of experience, we design and manufacture high quality, cost-effective adaptive defrost controls, and other electronic control devices.
Automatic Defrost Control Fault Codes: ADC
To learn more about the Adaptive Defrost Controls, contact us today or request a quote.