Gas and Electric Range Temperature Controls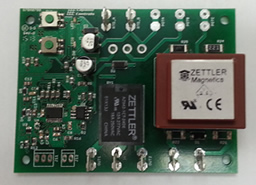 Capable Controls new temperature control series offers a 10amp output and various temperature ranges. Other features include auto-calibration mode, offset mode and dual LED indication.
Precision Series: Temperature Controls
Temperature Control Features:
Push buttons with LED for offset adjustment (+ or - 20°F / 2° Increments)
Diagnostic LED fault code (on back side of board)
Auto Calibration
Heavy duty relays rated at 107 mechanical 105 electrical
Mouting footprint compatible with most thermostats
All temperature ranges created in software (others avaiable upon request)
Very low cost and long life precision microprocessor controller
Proudly made in the USA
Self-tapping screws
Temperatrue Control Applications:
Fryers
Ovens
Holding Cabinets
Grills
Griddles
Rethermalizers
Toasters
Any heat-related product
Error Codes for Temperature Controls (LED#2)
2 Flashes Open Probe
3 Flashes Shorted Probe
| | |
| --- | --- |
| Power input: 24Vac, 120Vac, 220Vac 50/60Hz | Temperature Control Range: 100-650°F |
| Sensor Input: RTD: 1K Ohm Thermistor: 30K, 91K or 100K Ohm (others available) | Temperature Offset: + or - 20°F (1.5°F steps via 2 push buttons and LED) |
| Dimensions: H 2.62" x W 3.50" x D 2.09" | Temperature Accuracy: 3% of range |
| Mounting: 1.75" x 1.313" center to center (6-32 tap) | Temperature Control Type: On - Off |
| Connections: .25" Fast On Male | User Interface: Adjusting set point potentiometer |
| Output: SPST 10Amp @ 240Vac | Diagnostics: LED (back of board) Ambient Operating Temperature: 158°F / 70°C 96% non-condensing humidity 0°C min. |
| Agency approvals: UL-873 pending | Calibration Modes: Auto / Offset via push buttons / Other |
| Power consumption: 1W maximum (control only) |   |
Auto Calibration Mode for Temperature Controls:
Set temperature set point to 350°F. Press switch #1 (outside switch) and hold for 3 seconds until both LEDs flash and then release the switch. If both LED`s flash 5 times this would indicate the control is now calibrated and the information was properly stored into memory.
Temperature Controls Manual Offset:
Press and hold switch #2 (inside switch) for 3 seconds until the both LEDs flash and then release. If both LEDs flash multiple times this would indicate that the offset is set to 0°F (no offset). To add a positive offset simply press switch #1 (outside switch) once to increase the temperature +1.5°F. The LED will now turn on once then off indicating a 1 step offset. (This can go up to 10 steps +15-20°F). To do a negative offset simply hold down switch #2 (inside switch) for 3 seconds until both LEDs flash and then release. Then simple press the switch #2 as many steps as required (-1.5°F) per step. The LED #2 will turn on for as many steps as chosen. To increase or decrease steps simply add a step or remove a step by using the opposite switch. Example: If LED #1 flashes 3 times (3 step positive offset 3-4.5°F) and you want to change it to 2 steps simply press the Switch #2 Negative Offset (inside switch) once to remove a step. LED #1 will now flash 2 times on followed by a pause and will repeat this sequence until it times out.
After 10 seconds without any actions the control will revert back to its normal operating state.
Please note that anytime the auto calibration procedure is performed any offset will be reset to zero.
The manual calibration must time out for the information to be stored if the power is lost before it times out the information willl not be stored. 
LED#1: Positive Offset
LED#2: Negative Offset / Call for heat (normal operation mode)
LED#1 and #2 both ON: Auto Calibration Mode/Manual Offset Mode
SW#1: Auto Calibration Mode/Positive Offset
SW#2: Manual Offset Mode/Negative Offset
Request a Quote on the Temperature Controls you need, or contact us to learn more.