Electronic Control Device Designer and Manufacturer for the OEM Market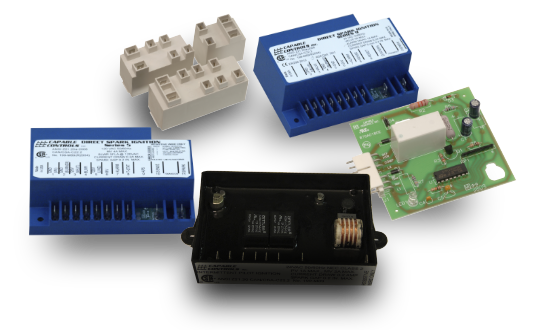 Established in 1990, Capable Controls Inc. is a designer and electronic control manufacturer. Primarily focused on gas ignition devices and other related products, Capable Controls has delivered more than 10 million electronic controls to the OEM market.
Our products range from simple discrete electronic single-function solutions, through more complex microprocessor-based multifunction embedded controls. Capable Controls partners with customers to define, develop, and manufacture cost-competitive electronic control products to meet their exact specific requirements.
Our corporate and research facilities are located in the Chicago area, with manufacturing based in El Paso, Texas.
Electronic Control Modules from Capable Controls
Capable Controls offers both custom and off-the-shelf electronic control solutions. Capable Controls was started with a series of range top igniters that we sold for many years to GE & Whirlpool Appliance groups. We then decided to venture into more complex ignition controls devices. 
These devices offer thousands of timing combinations from Pre-Purge, Inter-Purge, Post -Purge, and Trial Times. Our first control module, the 2X Series, has direct spark or intermittent pilot and is still used in many of our customer's equipment.
After the great success of the 2X, our customers wanted a Hot Surface Ignition module, so we developed our Series 8X control module. This smart, hot surface device was designed for a variety of OEM applications. It also features a universal control for replacement of a wide range of hot surface controls that are present in the field.
Some of the unique features of this smart control are:
Automatic frequency voltage sensing for 120V/240V igniters.
Multi-color LED diagnostics which indicates operation status and error codes
Dual relays for both hot surface and valve outputs.
Gas valve feedback circuit continuously monitors state of wiring.
Universal version with DIP switch for field selectable timings.
Gas Ignition Control Manufacturing 
Our 5 Specialty Areas in Custom Control Solutions
Capable Controls specializes in designing and manufacturing custom conttol solutions, no matter how complex the project is. With decades of experience, we provide exceptional service in five specialty areas of electronic control module manufacturing.
These 5 specialty areas are:
Custom Control Solutions for Appliances and Power Tool Applications

We provide electronic solutions for residential and commercial appliances as well as power tool applications. Our products range from simple discrete electronic designs to more complex microprocessor based controls.

Engineering and Corporate offices are located in the Chicago area with manufacturing facilities located in El Paso, Texas. Capable Controls actively participates with customers from product concept through manufacturing to improve performance and reduce product cost, keeping you competitive in today's marketplace.

Capable Controls welcomes simple as well as complex projects from initial design prototypes through large or limited productions volumes.

Capable Controls Electronic Control Module Manufacturer Capabilities

In addition to being an electronic control module manufacturer, Capable Controls also offers a range of other capabilities and value-added services.