New Product Announcements
Precision Series Temperature Controls
Capable Control is very proud to announce the launch of our new Precision Series Temperature controls. This new device was designed with input from many of our partners that we have worked with for years. It offers many options such as:
Diagnostic LED fault codes (rear side of board)
Auto calibration
Heavy duty relays rating at 10 Amps
Mounting footprint that it compatible with most competitors
True electronic offset via micro switches and LED indication
As you can see this versatile control can be used in many applications from Fryers, Ovens, Holding Cabinets, Grills, Griddles, Rethermalizers, Toasters and any heat related applications. We offer many temperature ranges and input types and can customize to many applications please let us know what your specifications are so we can determine the best way to meet your requirements.
Capable Controls Lennox Pulse Replacement Control – CCLPR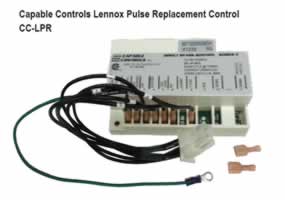 We now offer replacement units for the hundreds of thousands of Lennox controls that are currently in appliances and equipment. Since the discontinuation of these controls there is a great need for replacement controls that are currently in the field.
Capable Controls offers a Lennox G891 replacement controls for the following models: 60J00, 41F46, 56G14, 73K86, 77C38, 73K8601, 72K8601, 52J18, 34K33, 77C3801, 86H30, 96C66, 97C9701RP, 97H02 and 99C97. Our CC-LPR comes with a wire harness that interfaces with the existing Lennox connector.
Replacement Instructions for Lennox Pulse Johnson G891 Control
The Honeywell S89 & S87 Series Replacement Controls
We now offer replacement control for the Honeywell S87 and S89 series controls in which there are hundreds of thousands currently in appliances and equipment. After many customer have requested an alternative to these long established controls there is a great need for a drop in replacement for these series of controls.
The Series 5 ignition modules provide continuous ignition sequence flame monitoring and safety shut off with a dual colored LED for continuous status of control operations. The Series 5 microprocessor-based ignition modules are designed and stringently tested for use in all types of cooking and heating applications.
Capable Controls offers replacement controls for these Honeywell Series.
To learn more about our new products, contact us today or request a quote.