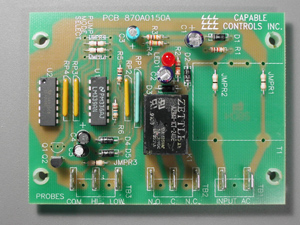 Model type 31X Shown
Model 31X 24v Liquid Level Controls with Dual Probe Sensing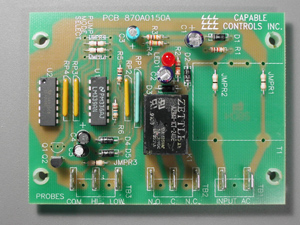 Model type 31X Shown
Liquid Level Control
Model 31x
Dual Probe Conductance Sensing
Pump-up/Pump Down
31X 24v Liquid Level Control Features
24 VAC operation 50/60 Hz
Low voltage AC detection
Selectable sensitivity to 100k ohms
Probe currents less than 1 mA.
10A relay @ 240 VAC resistive
10,000,000 mechanical operations
100,000 full load operations
Operating temperature to 85° C
Conformal coat, moisture protection
UL File E250761 US&C UL
The 31x series are conduction/resistance sensing type liquid level controllers. Pump-up operation begins when power is applied. With an empty tank, the control relay is energized until liquid contacts the high probe. As the tank is emptied and the liquid goes below the low probe the relay again is energized and the cycle is repeated. Pump-down operation is similar, with the control relay being energized upon liquid contacting the high probe. The relay is de-energized when liquid falls below the low probe.
Selection Options for the 31X 24v Liquid Level Control 
24 VAC operation
Sensitivity 50k or 100k ohms
Pump-up or pump-down mode
1/4 inch fast-on© or screw terminal connections
  Contact Capable Controls for additional options.
Model 31x Product Characteristics

Power input: 24 VAC 50/60 Hz
Power consumption: 1.5 VA max.
Sensing range: 100k ohms max.
Sensing voltage: 20 VAC max.
Sensing current:1mA max.
Operating frequency: 50/60 Hz
Operating temperature: 85° C max
Operating humidity: 90% non-condensing
Output: 10A @ 240 VAC, 1/2 hp
Mechanical: 10,000,000 cycles
Electrical: 100,000 cycles min.
Connections: 1/4 male fast-on®
Terminal block optional
LED operation monitor
 Series 31 / 32 Liquid Level Control
To learn more about the Model 31X 24v Liquid Level Control, contact us today or request a quote.